Public health is an exciting and dynamic field that considers health and disease from the perspective of populations rather than individuals. Unlike medicine and clinical services, which focus on the curative aspects of individual health, public health focuses on health promotion, disease prevention, and the overall health of the community.
Now more than ever before, we are faced with public health problems of international proportions, from climate change, pandemic influenza and other infectious diseases, to bioterrorism. Today, public health is not just for public health professionals—we all have the need to be educated citizens—to understand public health and the role it plays in our everyday lives.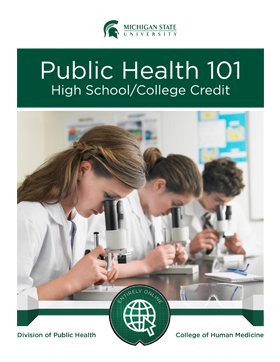 To provide high school and college students with an opportunity to explore public health education and a possible career in public health, Michigan State University Master of Public Health program offers the online course HM 101: Introduction to Public Health.
To learn more about the course, please download the Public Health 101 pdf.