MPH Program Director: Dr. Wayne McCullough
A key feature of the Master of Public Health (MPH) degree from Michigan State University (MSU) is the emphasis on applied knowledge. Public health students are engaged in coursework and practical training to obtain the knowledge, skills, and abilities necessary to perform, successfully, as a public health professional in the United States and internationally.
The Master of Public Health degree, conferred by the College of Human Medicine at MSU, is a rigorous, 43-credit, terminal, professional degree designed to meet the expectations of the MPH Foundational Knowledge and Competencies as defined by the Council on Education for Public Health. All required courses and student advising are delivered entirely online. Studies may be taken on a full-time or part-time basis.
---
Master of Public Health News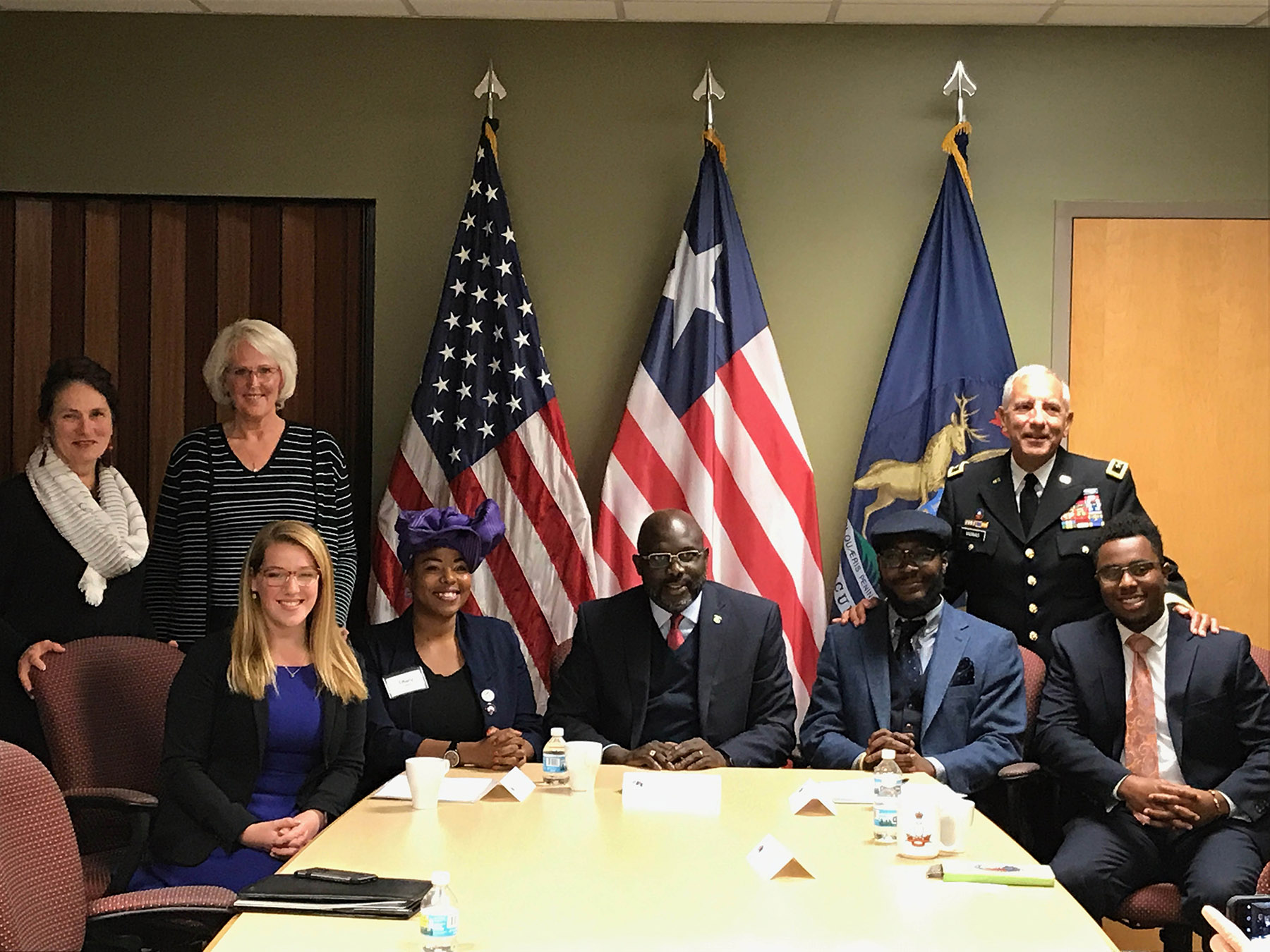 Standing: Christine Blackledge, MSU MPH student; Connie Currier, Assistant Professor MSU MPH Program; Major General Gregory J. Vadnais, Adjutant General of the Michigan National Guard
Seated: Melissa Kothbauer, University of Michigan; Tiffany Caesar, MSU African American & African Studies Student; His Excellency George Weah, President of Liberia; Clarence George III, MSU African American & African Studies Student; Chris Shell, MSU History Student
Master of Public Health assistant professor, Dr. Connie Currier, had the great honor of attending a dinner at the Governor's Residence with Governor Rick Snyder, President George Weah of Liberia, and Major General Gregory J. Vadnais, Adjutant General of the Michigan National Guard. Dr. Currier was invited to participate in a round table discussion hosted by the Michigan National Guard to discuss Liberian economic development, education, local support, soccer integration, and security the following day. She was among representatives from the Chamber of Commerce, the Michigan Economic Development Corporation, MSU and UofM African Studies and Agriculture, the Liberian Association, the United States Soccer Federation, and African Security.
Over the 2017-2018 academic year, the Master of Public Health (MPH) program has worked to update our curriculum in order to better prepare our future public health practitioners. This effort was in part preparation to submit our application for the Council on Education for Public Health (CEPH) accreditation and in part response to feedback from our stakeholders. The priority of the Master of Public Health program is to advance public health practice across the globe, and with these improvements, we are now more capable than ever to meet this goal. Beginning spring semester of 2019, the updated curriculum will be required of all new Master of Public Health students.
There are three new aspects to the curricular updates:
We have updated the requirements for graduation from 42 to 43 credits, including the additional requirements of taking a health equity framework course, a public health leadership course, as well as your choice of one of the three practical public health methods courses.
We have categorized our required courses into foundational, core, electives, and culminating experience.
We have limited the number of electives offered each semester in order to allow for increased diversity of topics covered over the course of the program. Currently, electives will run on an odd/even semester schedule and will fit into the categories of policy/administration, global/cultural health, nutrition, infectious disease, and epidemiology/biostatistics/surveillance.
The foundational courses provide students with the information that encompasses the root values of our program: leadership, health equity, and practical application. This category of courses includes something new: the student's choice of one of our three selectives. These courses cover the breadth of practical methodology utilized by public health practitioners, including systematic review, program evaluation, and study design. It is our intent that these selectives will provide our graduates with practical tools that can be immediately applied to their chosen field of public health.
The core courses provide students with knowledge in all core areas of public health. There are now course chairs for each of these core courses, and these faculty members are responsible for ensuring their core course is relevant and innovative. Additionally, these faculty members will be the point of contact for any student wishing to know more about these areas of public health.
Thank you for your dedication to public health!
Elizabeth Hamilton, MPH, PhD
Interim Director, Master of Public Health
Michigan State University