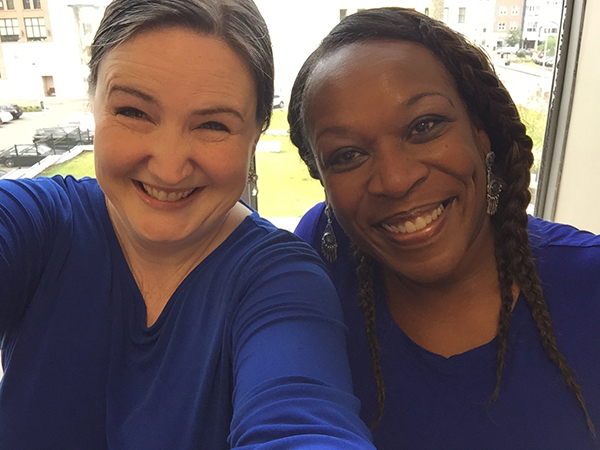 Dr. Jennifer Johnson, a C.S. Mott Endowed Professor of Public Health, is conducting several research projects. Her research team consists of the following members:
Research Associate
Maji Hailemariam Debena, Ph.D.
Maji has a Ph.D. in Mental Health Epidemiology from Addis Ababa University. She also graduated with MSW from the same university. Her previous research work focused on examining the feasibility and acceptability of integration of mental healthcare into primary care facilities in rural Ethiopia, Africa. Her doctoral dissertation examined barriers to equitable access to mental healthcare for disadvantaged individuals (women, rural residents and individuals in absolute poverty) with Severe Mental Illness in Ethiopia. Her research interests include severe mental illness, health equity, health services research and health disparities in low-resource settings.
Project Coordinator
Joshua Sinclair, MSW
Josh graduated with an MSW in Organizational and Community Leadership from Michigan State University in 2016. He is a licensed social worker through the state of Michigan, working primarily with children and families. He has over 6 years of experience in crisis intervention, working in residential treatment centers for youth in foster care, juvenile justice, and Child Protective Services. Josh plans to pursue a Ph.D. in Social Work.
Raven Miller, MS
Raven graduated with an MS in Clinical Research Administration from Walden University in 2016. She has worked in clinical research for the last 6 years providing project coordination to both medical and behavioral research studies. She feels the ROSES study is the first step to improving mental health states and removing stigmas around prevention, treatment, and care for postpartum depression.
Office Coordinator
Morgan Flees, BS
Morgan graduated from Eastern Michigan University in 2011 with her B.S. in Communications and Marketing. She is the office coordinator for Dr. Jennifer Johnson and Dr. Vicki Johnson-Lawrence. Before becoming an MSU Spartan in November 2017, she worked as a residency coordinator for 6 years at the University of Michigan in Ann Arbor. For over 7 years, she has dedicated her career to keeping health faculty educators and directors organized, prioritized and efficient. Morgan finds enjoyment in helping people and organizations become successful. She hopes to pursue her Masters from Michigan State University.

Research Assistants
Juan Contreras, BA
Juan graduated from Michigan State University in 2017 with a B.A in Psychology. Prior to joining Dr. Johnson's research team, he was a research assistant at the University of Michigan, Columbia University, and Yale University. Juan has an avid interest in working with individuals living with psychopathology, and he hopes to contribute scientific basis for novel interventions, similar to the SPIRIT study's aim. Ultimately, Juan hopes to pursue a graduate degree in Clinical Psychology to continue working with the same population.
Sara Hughes, BA
Sara earned her B.A. in Criminal Justice and Psychology from Michigan State University. She is currently pursuing her Master's in Social Work at the University of Denver. Along with SPIRIT, Sara also works with youth involved in the juvenile justice system in Colorado. After gaining her MSW she plans to continue to work with adolescences suffering from a comorbidity of justice system involvement and mental health issues.
Susan Lamphere, MA
Sue obtained her B.A. in Psychology from University of Notre Dame. She went on to earn an M.A. in Counseling Psychology from Michigan State University. For her, the SPIRIT Study is important because there is great need in the jails, and if addressed, it could impact many lives for the better and save money as well.
Brianca Nuby, BS
Brianca graduated with a BS in Health Care Administration from the University of Michigan-Flint in 2016. She has over 5 years of experience in healthcare office coordination, working closely with multi-disciplinary clinical teams. She has a desire to work with OBGYN research and believes the ROSES study will create more awareness around the importance of preventing postpartum depression.
Fallon Richie, BA
Fallon graduated from Hope College in 2016 with a B.A. in Psychology and minors in Neuroscience and Spanish. She has experience working in a residential drug treatment facility for women and with an organization that provides job readiness training and mentoring to individuals re-entering the community after incarceration. She hopes to earn a Ph.D. in Clinical Psychology and work as a prison psychologist. She is grateful to work with the SPIRIT study and feels called to serve those in the justice system. While individuals in jails or prisons are often viewed as perpetrators of crime, she also sees that many are victims of violence, trauma, and a system that could be better serving them.
Esme­ Roddy, BA
Esme graduated from Pomona College in 2018 with her B.A. in Neuroscience. She is a member of the Sault Sainte Marie Tribe of Chippewa Indians and has experience mentoring Indigenous high school and college students as well as advocating for increased access to mental health care within these communities. In the future Esme hopes to earn her PhD in Clinical Psychology. She is excited to join the SPIRIT study team as she recognizes the need for innovative mental health care interventions within the criminal justice system.
Brandon Taylor, BS
Brandon graduated from the University of Michigan-Flint in 2017 with a B.S. in Research Psychology and a minor in Substance Abuse Treatment. He's currently pursuing an MSW at Michigan State University and hopes to eventually attain work as a therapist. He feels SPIRIT is both exceptionally meaningful and much-needed for justice-involved people facing debilitating mental health concerns.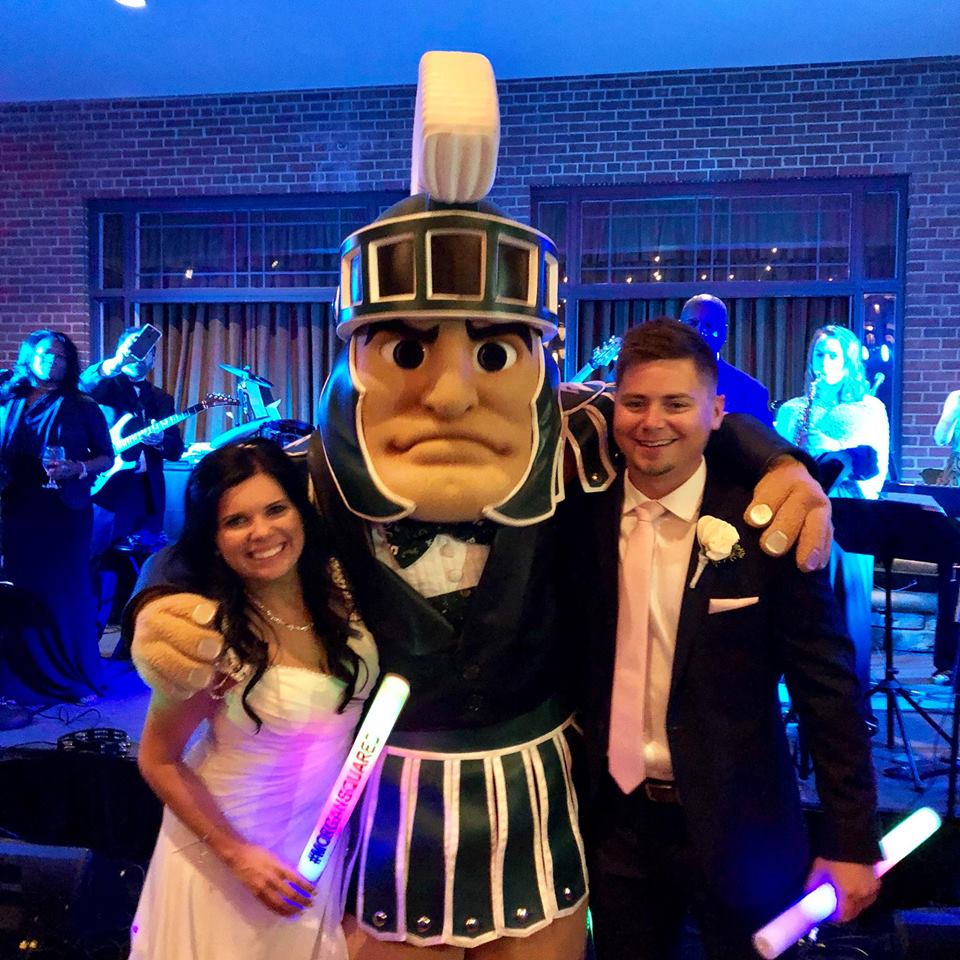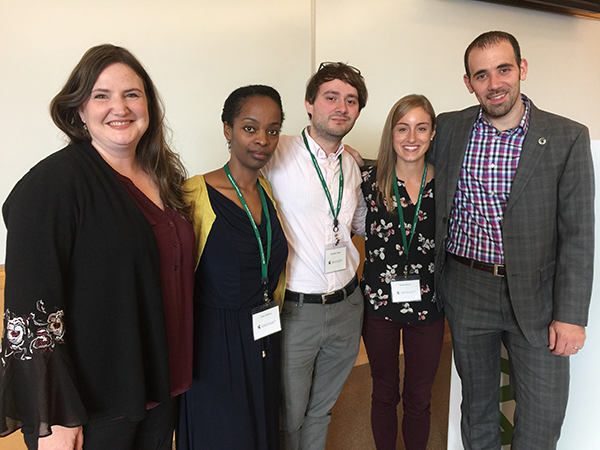 Pictured, left to right, Jennifer Johnson, Maji Hailemariam Debena, Brandon Taylor, Fallon Richie, and Rick Sadler