C.S. Mott Endowed Professor of Public Health
I am a clinical psychologist who conducts NIH-funded randomized trials of effectiveness, cost-effectiveness, and implementation of mental health and substance use interventions for high-risk women (including perinatal women) and justice-involved populations (such as prisoners and jail detainees). Some of my projects have included:
Suicide risk reduction in the year following jail release: the SPIRIT Trial (Suicide Prevention Intervention for at-Risk Individuals in Transition; U01 MH106660; 2015-2019)
Implementing to sustain: Determining the minimum necessary intervention to maintain a postpartum depression prevention program (ROSE) in clinical providing prenatal services to low-income women (R01 MH114883; 2017-2022).
Effectiveness of IPT for men and women prisoners with major depression (R01 MH095230; 2011-2015)
AA linkage for alcohol abusing women leaving jail (R01 AA021732; 2013-2018)
Sober Network IPT for perinatal women with comorbid substance use and depression (R34 DA030428; 2011-2015)
Group IPT for major depression following perinatal loss (R34 MH086682; 2010-2015)
HIV/STI risk reduction for incarcerated women with interpersonal violence (R34 MH094188; 2011-2015)
Effects of prisoner re-entry context on cognitive ability to manage mental health at re-entry (R21 MH105626; 2015-2017)
Group IPT for women prisoners with comorbid substance use and depression (K23 DA021159; 2006-2011)
I came to MSU from Brown University in January, 2015 to help build an academically vibrant and socially responsive team of community engaged scientists based in Flint, Michigan, who will contribute to the Flint revitalization effort. I was the first member of the MSU's new Public Health Research Collective in Flint, and I am happy to make my home to live and work in Flint.
Us and Them from MSU MD on Vimeo.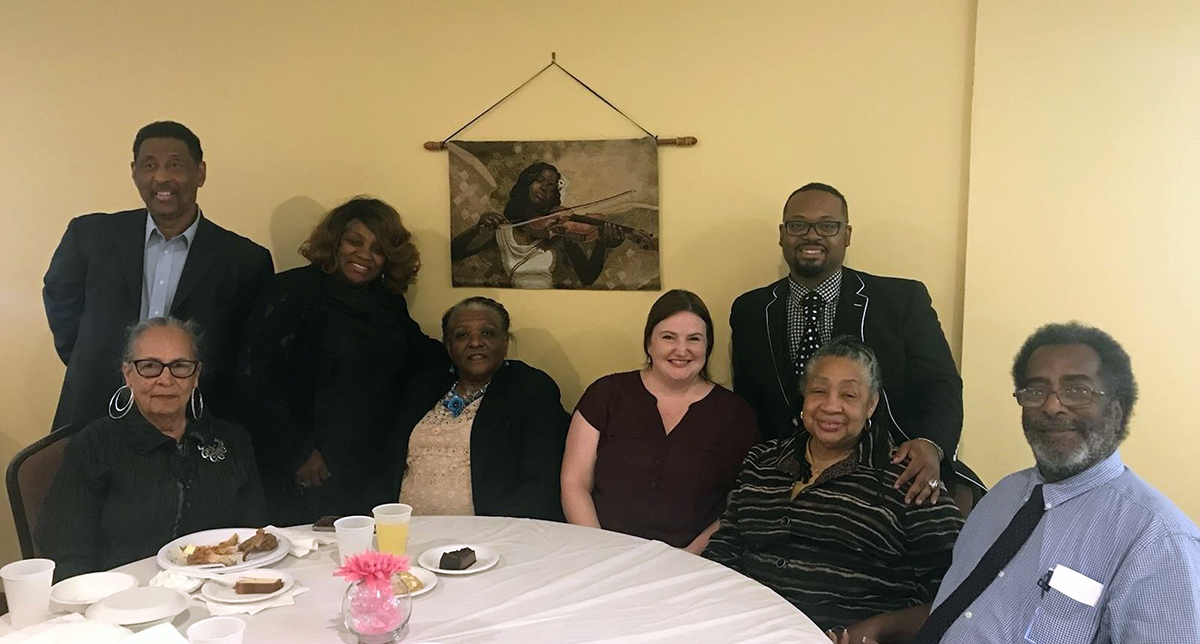 Our community partners in Flint are among the most dedicated, passionate, and skilled in the world, and they deserve our respect, commitment, and full and equitable partnership. The College of Human Medicine as a campus in Flint because the community wanted it, funded it, and helped to shape it. Researchers with expertise in improving behavioral health, healthy behaviors, health equity, and social determinants of health were sought for Flint because that's what the community wanted. The specific researchers who have been recruited to Flint were offered positions because the community interviewed them, vetted them, and wanted them. We are these researchers, and we came because the community wanted us. The mission of the build (to benefit the community) and the community's involvement in choosing us and investment in working with us is singular in any of our careers. As a result, Flint and MSU wooed us (as well-funded, senior investigators) away from some of the best research institutions in the country (Johns Hopkins University, University of Michigan, and Brown University). We do not know of anything else like what Flint and MSU have done together here. Our community partners are worth every minute of what we do here, and a thousand more.
I am both 100% researcher and 100% clinician. Here are the three most important things I've learned as a counselor to date:
When get people alone, talking about their hopes, dreams, etc, people are more alike than different.
Listening is 80% of solving a problem.
Negotiation of a working alliance (mutual understanding of the problem, agreement on goals, agreement on methods to address the goals, and mutual respect) is one of the most reliable predictors of successful therapy outcome.
How does this inform my research in Flint?
Coming into Flint as a researcher, there is no doctor-patient relationship we are equals. If you have come here to help me, you are wasting our time. But if you have come because your liberation is bound up with mine, then let us work together." -Aboriginal activists group, Queensland, 1970.
As in counseling, effective work in Flint, listening is 80% of solving a problem.
In Flint, collaborative negotiation of a working alliance is incredibly important to outcomes. This is a collaborative process of discussion until there is mutual understanding of the problem, agreement on goals, agreement on methods to address the goals, and mutual respect. I understand you, discuss what I know or have to offer that may or may not be useful, and then we talk about if it's a good fit or not.
Unfortunately for academics, this is radical equality. Our community partners in Flint are individuals of exceptional skill, wisdom and experience. Our community partners are our equals if not our superiors. Unfortunately, because these partners are from historically marginalized groups, often African-American women, they are not always heard or respected the way they should be. Researchers and clinicians are unwise when we do not involve representatives from our target populations in every step of the decision-making process, including goals, methods, budgets, execution, and interpretation of results.
To our experienced, wise, hard-working, passionate community partners,
who have written grants and papers with us until the wee hours of the morning,
who have taught my 10-year-old that character is who you are when no one else is looking,
who have attended our job talks,
and advised us individually and as a group for no other reason than a commitment to the greater good, thank you.
Thank you for your decades of advocacy and dedicated service to benefit the city where my family and I now live, work, shop, worship, and play.
I hope you know by now that I will show up for you and fight alongside you. It may be on a different front at a particular time, but it is the same battle. I know that you will show up for me and for us.
Martin Luther King, Jr. was fond of saying that "the arc of the moral universe is long, but it bends toward justice." Working together, we can help bend it toward justice, equity, prosperity, and recognition of those who have been under-recognized for far too long, who have worked here in Flint for decades to represent their people, who are now our people.
My personal research efforts in Flint will help to improve access to and funding for high-quality mental health and substance use treatment services for vulnerable citizens here, in the state, and nationally. I especially work with those who face stigma (pregnant substance users, justice-involved men and women, sex workers), and who are often judged by society to be undeserving to receive the mental health and substance use services and necessities (safe, sober housing; protection from additional violence) that they need to function and to recover. I include cost-effectiveness analyses in my research to try to make a business case for needed services for these individuals. Prior research has shown that a good business case can change public policy when appeals to logic or compassion do not. The overall goal of my research is real-world policy, intervention, and service access improvement. I would love to see health, well-being, and prosperity for everyone in Flint.